QUICK, EASY & LOCAL: 6 ASIAN-INSPIRED PASTA RECIPES
The Asian invasion is here. In the West and globally, Asian cuisines like Vietnamese, Thai and Northern Indian food are gaining mainstream popularity. Even chefs look to Asia for inspiration and ideas to incorporate new and exotic ingredients into their restaurant menus.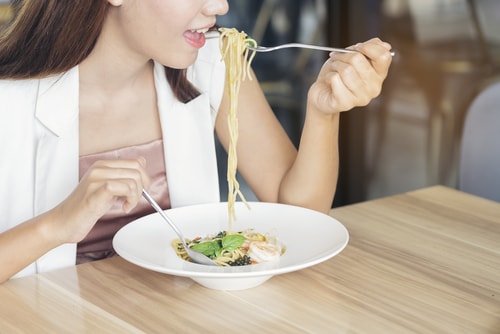 Closer to home, eating locally grown and produced food is not only good for the environment, it's also a great way to support the local community and small businesses.
How can you include more local produce into your meals? One easy way to do that is with pasta dishes. Pasta-based meals are a versatile way to experiment with ingredients. Instead of opting for salmon, Portobello mushrooms or shredded cheeses in your pasta, why not try incorporating Asian flavours and ingredients from your local wet market? Here are some ideas to start with:
TOM YAM BOLOGNESE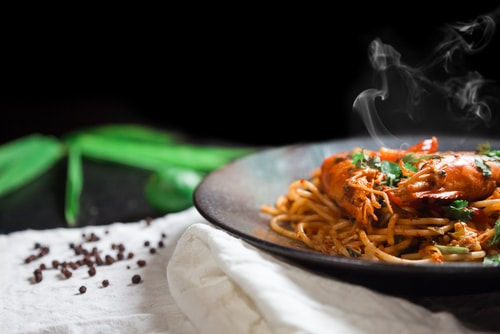 Add a tangy twist to your regular spaghetti Bolognese with this Thai-inspired recipe. Instead of canned tomato puree or pasta sauces from jars, simmer together onions, garlic, halved tomatoes, tom yam paste, a dash of fish sauce and lime juice in a large pot. Bolognese pasta or this tom yam variation is also an easy way to increase your vegetable intake – just add in a handful of chopped carrots, celery or mushrooms into the sauce for a nutritious and tasty meal.
SPICY SERUNDING AGLIO OLIO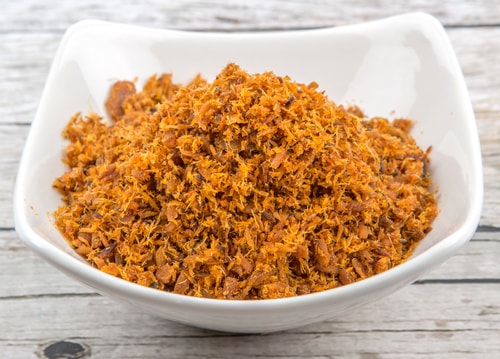 Serunding's best accompaniment is rice, as it allows the flavour to shine through. You will often find this dish eaten with lemang rice or ketupat. Serunding can also be the star in a Malaysian version of the aromatic aglio olio. Whether beef, chicken or anchovy serunding, a generous serving is sure to pack a flavourful punch to your pasta meal. Toss a spoonful of serunding with short pastas like macaroni or penne and enjoy.
CURRY & CHICKPEA PASTA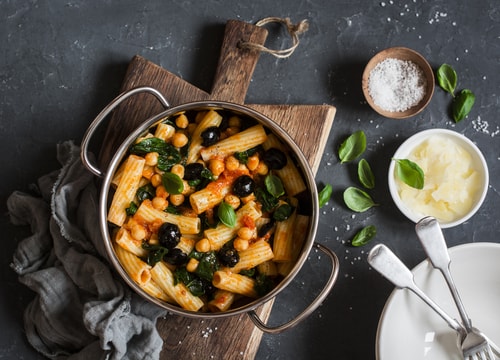 Got some leftover chicken curry? An easy way to repurpose leftover stews and soups like curries is to warm it up with handful of cooked pasta for a quick and easy meal. If you have curry powder and chickpeas lying around, you can combine them for a tasty Italian-Indian fusion pasta. You can also increase the fiber count in this recipe by adding in chunks of easily-available local vegetables like carrots, ladyfingers, cauliflower or even eggplant.
LAKSA PESTO PASTA
Do you love pesto, but find basil leaves and pine nuts too expensive or hard to get? Make your own local laksa pesto with a blend of pistachio, almond or cashew nuts, Thai basil and laksa leaves. The resulting paste is perfect when tossed in a plate of freshly cooked pasta, giving you that familiar pesto texture and flavour. Add cooked shrimp to the pasta for more protein. You can also use the laksa pesto paste for other meals like sandwiches or as a barbeque marinade.
GARLICKY BOK CHOY PASTA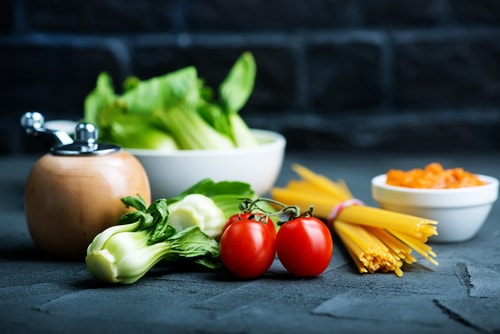 This is a simple recipe you can easily prepare in under 15 minutes. Also known as pak choi or siu pak choi, the bok choy is a type of Chinese cabbage with crunchy, light coloured stems and soft, dark leaves. Stir fry chopped bok choy in a dash of sesame oil, then toss it lightly in a mixture of chicken broth, minced garlic, oyster sauce and other seasonings over medium heat. Pour this mixture over cooked pasta and voila – a tasty and healthy meal! If you can't get your hands on bok choy, you can easily substitute it with any other leafy vegetables like choy sum kailan or white cabbage.
STIR-FRIED BEEF & VEGETABLE PASTA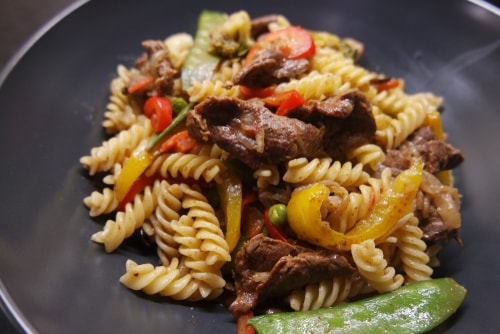 This is another recipe where the ingredients are a match made in heaven. Stir-fried beef strips, shiitake mushrooms, broccoli florets and capsicum slices provide a balanced meal when paired with pasta. To retain more of the nutrients from the vegetables, blanch them in lightly salted hot water instead of stir-frying them with the beef and pasta. It's also far easier to blanch dense vegetables like broccoli to cook them than to stir-fry.
For all the above recipes, opt for whole wheat pasta if you can, as you'll find up to 23% of your dietary fiber here (compared to the 9% from regular refined pasta). If you find the texture of whole wheat pasta hard to swallow at first, try a blend of half whole wheat and half regular pasta and slowly work the ratio to more whole wheat.
With a little bit of creativity and some research, you'll soon find that locally-inspired pasta dishes can taste just as good as those with imported ingredients. What other locally-available foodstuff would you incorporate into your pasta dishes?